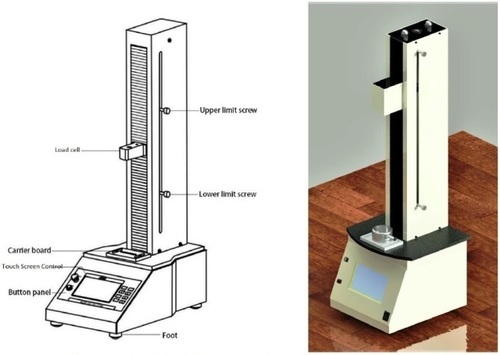 Automatic Peel Strength Tester
Product Description
Application:
Our Automatic Peel Strength Tester is unique instrument for Tensile testing with good stability, wide application and convenient usage with function of step less speed adjusting, uniform motion, converting mode between manual and automatic operation. It is used for various applications such as Peel strength Testing, Tensile Testing, Push & Pull Testing, Puncture/ Piercing force, Penetration test, Measuring Strength of Glass Ampules as well as Scientific Research Institute & many more.
Features:
Touch Screen Display

PLC & Servo Drive for precise Operation.

Simple operation, able to be used with various kinds of fixtures.

Step less speed regulation, gear drive

Compact design & structure with stable drive
Specifications:
Capacity : 500N (50Kg)

Accuracy : 0.1N / 0.01Kg/ 0.02lb

Units : N, Kgf, Lbf

Traveling Length : 450mm

Speed Selector : 0 to 500 mm/min

Data Output : USB/ Ethernet for data saving & Printing purpose.
Power/Air :220 /110 V 50/60 Hz
Weight :75 kg
Dimensions : 400 x 400 x 1080 mm (L x W x H)

Peel Strength Tester, Adhesion Tester

Contact Us
A-40, Unnadeep Complex, Tower-A, Susen Tarsali Ring Road, Tarsali, Vadodara, Gujarat, 390010, India
Phone :+918035063536