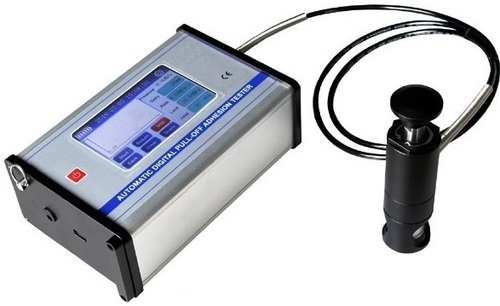 Automatic Pull Off Tester
Product Description
Application
Our Automatic Digital Pull Off Tester is unique instrument for adhesion and bond strength testing of all types of films,coatings, laminates, adhesives, metals plastic coatings, concrete coats, and mortars and plasters and other materials.
It is portable, hand-operated instrument which is used to measure the force required to pull a specified test diameter of coating away from its substrate using hydraulic pressure. The pressure is displayed on a digital LCD and represents the coating's strength of adhesion to the substrate. It evaluates the adhesion (pull-off strength) of a coating by determining the greatest tensile pull-off force that it can bear before detaching, breaking points,demonstrated by fractured surfaces, occur along the weakest plane within the system consisting of dolly, adhesive, coating layers and substrate.
Specifications:
Dolly Size : 20mm (Standard); 10mm,14mm,50mm (Optional)

Resolution : 0.01MPa(1psi)

Accuracy :+-

1%Full scale




Max. Pull-offPressure :

Pie 10mmdolly->0~80 MPa; (Optional)




Pie 14mmdolly->0~40 MPa; (Optional)

Pie 20mmdolly->0~20 MPa; (Standard)

Pie 50mmdolly->0.2~3.2 MPa; (Optional)

Accessories:



20mm Aluminum testdollies (20 pcs)

Cutting toll for20mm dollies,

3M Adhesive and gluegun

Micro-USB cable

Carrying case
Power: Built-in rechargeable lithiumbattery with standard charging adapter.
Weight: 4-5 Kg
Dimensions: 360 x 75 x 115 mm(LxWxH)
Contact Us
A-40, Unnadeep Complex, Tower-A, Susen Tarsali Ring Road, Tarsali, Vadodara, Gujarat, 390010, India
Phone :+918035063536