Computerized Elmendorf Tear Tester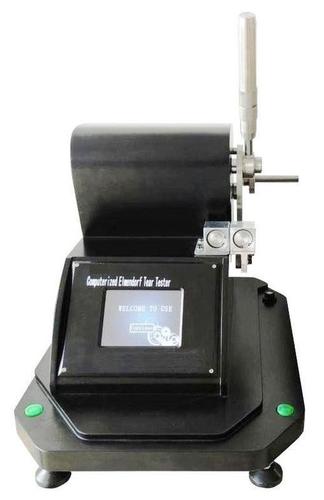 Computerized Elmendorf Tear Tester
Price And Quantity
Product Specifications
560 x 420 x 530 mm (LxWxH) Millimeter (mm)

75 Kg Kilograms (kg)
Product Description
We offer supreme Computerized Elmendorf Tear Tester that helps in testing strength and fatigue of textile. It is engineered to provide accurate results of the test done for fabrics, non woven materials, paper, etc. It is versatile to test light as well as heavy weight materials perfectly. It has lever clamps fr easy and quick specimen loading. The product is user friendly and safe for the user. Its two hand release mechanism helps in keeping the operation of the equipment safe. It is more convenient as it displays the result on the LCD display of the instrument. As everything is computerized in our Computerized Elmendorf Tear Tester, special software are included to store and save the results for future use.
Computerized Elmendorf Tearing Tester (patented product), to determine the ballistic tearing strength of textiles, plastics, paper or board by falling-pendulum instrument.
It enables rapid determination of the dynamic resistance of materials designed to be subjected to strong shearing loads (e.g. fabrics) or liable to be damaged by sharp or heavy objects (e.g. paper bags). Subsequently, the test was naturally adopted for all materials in the form of sheet or films, card boards, cloth, knitted fabrics, plastic films, aluminum foil, non-woven fabrics, complex flexible packaging etc. But does not apply to sparse fabric or stretch materials which tearing direction might be shift in test.
Repeatable,pneumatic specimen gripping system guarantees sufficient clamping pressure to avoid all slipping phenomena, thus ensuring perfect reproducibility of the experimental conditions.
for friction and leveling errors, no slave pointer, therefore no friction, alignment and maintenance problems.
Capacity: 12800 grams (0 ~ 128N) m range
Unit : GF, MN, CN, CP, LB
Pendulum Range (mN): 0 ~ 1600,0 ~ 3200,0 ~6400, 0 ~ 12800
Accuracy: 1.2% of pendulu
Power/Compressed Air : 220 V /110V 50 / 60Hz0.5-0.7 Mpa
Weight : 75 Kg
Dimensions : 560 x 420 x 530 mm (L x W x H)

Accessories :
Professional Elmendorf Tearing Test software.(Optional) 1 pcs of Specimen cutting template.

Standards :
ASTM D1424 / 5734
ISO1974 / 9290
BS ISO 13937
BS 3424 / 4253 / 4468
DIN 53862 /53128
NEXT 17
M&S P29
INDA IST 100.1
AFNOR G 07-149
FZ/T 60006
FZ/T 75001
Computerized Elmendorf Tear Tester Manufacturer
Computerized Elmendorf Tear Tester Supplier
Computerized Elmendorf Tear Tester Exporter